This article contains Japanese and/or Chinese characters.
Without proper rendering support, you may see question marks, boxes, or other symbols instead of Kanji symbols.

This article is a stub.
Go right ahead, just smash that Drill Here button and help by expanding it, or I'll destroy the wiki with the Destruction Drill!

Undergrounders (地底人 Chiteijin) are a race of species that appear in all games of the Mr. Driller Series. Although they are not antagonists, they sometimes make a mess of the blocks and food supply. They are considered to be very intelligent, but are scatterbrains. There are 2 races, space and underground undergrounders. In Star Trigon, they are called Uchujin (宇宙人 Uchūjin).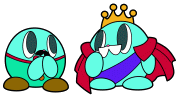 Ad blocker interference detected!
Wikia is a free-to-use site that makes money from advertising. We have a modified experience for viewers using ad blockers

Wikia is not accessible if you've made further modifications. Remove the custom ad blocker rule(s) and the page will load as expected.