Mr. Driller 2 (ミスタードリラー 2,
Misutā
 Dorirā Tsū
)
is the second game in the Mr. Driller series. It was released in the arcades in 2000, and ported to GBA and Windows in 2001.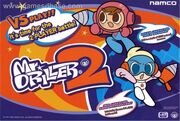 The game introduces 2 new characters,
Puchi
(
Susumu
's dog), and
Anna
, Susumu's rival.
The plot is nearly identical to the one featured in the first game; Susumu Hori, labeled "Mr. Driller" is sent once again to drill out the colored blocks that erupted on the surface thanks to the Undergrounders unintentionally over-producing them. However, Susumu is not alone, as he is followed by his pet dog Puchi and friendly rival Anna Hottenmeyer.
Screenshots
Edit