This article is a stub.
Go right ahead, just smash that Drill Here button and help by expanding it, or I'll destroy the wiki with the Destruction Drill!
Jyo and Syu are characters that only appeared in Mr. Driller G. Both are twins and the assistants of Professor Z. They are very helpful and friendly.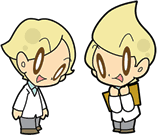 They have different hairstyles. Jyo is the one with the upward hair, and Syu is the one with downward hair. 
Ad blocker interference detected!
Wikia is a free-to-use site that makes money from advertising. We have a modified experience for viewers using ad blockers

Wikia is not accessible if you've made further modifications. Remove the custom ad blocker rule(s) and the page will load as expected.