Into Action!

Episode Title

Into Action!

First Appearance

Mr. Driller G

Latest Appearance

Mr. Driller G

Characters Starred

Susumu, Anna, Puchi, Dr. Z, Taiyo
Into Action is the first of the five available episodes of Mr. Driller G.
Sypnopsis
Edit
Cutscene 1
Edit
After Susumu was inspecting his drill, he asked Puchi if he could come over to Anna's house to play. When they arrive, Susumu greets her and puts his hand out in front of Anna. She rapidly punches Susumu. After the events, they run down to Dr. Z's lab for a Driller Race.
Cutscene 2
Edit
After Susumu has won, Dr. Z gets a notice about blocks that are overrunning Paris. Susumu and Anna are taken over to Paris to take care of this situation. Susumu had to go because he won the Driller Race.
Cutscene 3
Edit
When Susumu has hit bedrock (the bottom of the block outbreak), he meets an Ankoku Driller named Keel. He challenges him to a Driller Race to get the key to stop the blocks.
Cutscene 4
Edit
After Susumu has won, Keel goes into rage and hands over the key. After he leaves, they say that they got this situation removed.
Transcript
Edit
Click here for the picture version.
Watch Episode
Edit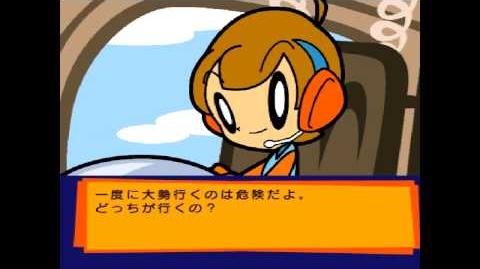 Ad blocker interference detected!
Wikia is a free-to-use site that makes money from advertising. We have a modified experience for viewers using ad blockers

Wikia is not accessible if you've made further modifications. Remove the custom ad blocker rule(s) and the page will load as expected.