This article contains Japanese and/or Chinese characters.
Without proper rendering support, you may see question marks, boxes, or other symbols instead of Kanji symbols.

This article is a stub.
Go right ahead, just smash that Drill Here button and help by expanding it, or I'll destroy the wiki with the Destruction Drill!
Dr. Manhole
(博士マンホール
Hakase Manhōru
) is the main antagonist of the
Mr. Driller
Series. He was once a nice person and was friends with
Professor Z
at first, but after many events happening, he became a cruel and nasty person, and wanting to destroy the human race (although he is human). He makes his first appearance in
Mr. Driller G
. His henchmen are the
Ankoku Drillers
(called
Team Ankoku
by some people).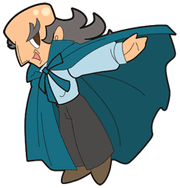 Ad blocker interference detected!
Wikia is a free-to-use site that makes money from advertising. We have a modified experience for viewers using ad blockers

Wikia is not accessible if you've made further modifications. Remove the custom ad blocker rule(s) and the page will load as expected.